In a nutshell
Kickstart your career in the fitness industry with this SIS30315 Certificate III in Fitness (Gym Instructor) course! The course is designed to give you experience designing and delivering targeted fitness training to a wide range of clients.
With 30 hours of practical face-to-face training with an Australian Institute of Personal Trainers (AIPT) expert mentor or approved alternative mentor, you will gain professional skills to become familiar with gym equipment and class instruction techniques.
This course also includes online theory components to be completed in tandem with your practical training, ensuring you understand the basics of anatomy and physiology, healthy eating trends and motivational strategies to get the best results for your clients in their fitness journey.
Practical work placement
To successfully complete this course, you must undertake a total of 30 hours of practical work experience with a mentor in order to gain real-world skills. AIPT will pair you with one of their expert mentors – a fitness professional – in their gym or fitness studio. Alternatively, you will have the opportunity to select your own AIPT-approved mentor.
(Visited 103 times, 1 visits today)
What you'll need
Education
You will need to have completed year 10, or equivalent. Equivalency can be demonstrated by one of the following:
A qualification at Certificate II level or higher OR
2 years of industry experience in a role that requires the use of written documentation and communication.
Minimum Age
You will need to be at least 16 years old. If you are under 18 your enrolment form will need to be signed by a parent or guardian.
Residency Status
You will need to be a permanent Australian resident or equivalent.
Computer Requirements
In order to complete the on-line part of the course you will need regular access to the following:
Computer: Laptop or desktop computer with working speakers or headphone points.
Internet:  High speed internet such as Broadband or ADSL, T1/T2, fibre optic or cable (Dial-up access will be significantly slower and is not recommended).
Windows :  Operating system – Windows XP or Vista 7 or above. Internet Browser – Internet Explorer 7 or higher or the latest version of Google Chrome
MAC :  Operating system: OS X 10.4 or later. Internet Browser – latest version of Google Chrome. 
Software: Flash, Adobe Reader, Microsoft Word (or Open Office which is free to download
In addition applicants must hold a current Working With Children Check to complete the practical component of the course
Subject summary
In this fitness course, the units of competency you may study include:
HLTAID003* Provide first aid
SISFFIT004 Incorporate anatomy and physiology principles into fitness programming
SISFFIT001 Provide health screening and fitness orientation
SISFFIT006 Conduct fitness appraisals
SISFFIT005 Provide healthy eating information
SISXCCS001 Provide quality service
SISXFAC001 Maintain equipment for activities
SISXIND001 Work effectively in sport, fitness and recreation environments
SISFFIT003 Instruct fitness programs
SISFFIT002 Recognise and apply exercise considerations for specific populations
SISFFIT014 Instruct exercise to older clients
SISFFIT012 Instruct movement programs to children aged 5–12 years
HLTWHS001 Participate in workplace health and safety
BSBRSK401 Identify risk and apply risk management processes
SISXCCS003 Address client needs
SISFFIT024 Instruct endurance programs
*You must complete this unit with an external provider. The Australian Institute of Personal Trainers has an agreement in place with Red Cross Australia (RTOID 3605) which allows students to receive training for this unit at a reduced price. Red Cross Australia is a third party training provider who conduct training and assessment services on behalf of Australian Institute of Personal Trainers. Please note that the cost of this external training is not included in any of your course fees. Upon completion, you will need to submit a copy of your first aid certificate in order for us to process a Credit Transfer against this unit on your student record. If you have chosen your own third party provider, you must submit a certified copy of your certificate. If you have undertaken training with Red Cross Australia, you must forward Australian Institute of Personal Trainers the email you receive which contains the electronic copy of your certificate.
Why
Australian Institute of Personal Trainers

?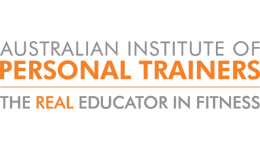 RTO 32363
The Australian Institute of Personal Trainers (AIPT) are experts in wellness, nutrition and fitness, and equip their students with the best in online and face-to-face education. Established in 1999 alongside their partner Registered Training Organisation, Foundation Education, they have grown from a handful of campuses in Queensland to over 150 campuses and an extensive network of Mentors Australia-wide. When you study with AIPT you have access to:
Dedicated student support
Access to a dedicated team of Support Officers to make the transition into study as straightforward as possible.
Largest network of locations
We have the industry's largest network of gyms across Australia, ensuring we're in your area.
Flexible delivery options
AIPT caters to all learning styles and offers flexible study options to suit everyone's schedules and budget, with a focus on practical learning and hands-on experience.
Throughout your studies as an AIPT student, you will have complete access to their expert education team – a group of mentors who are dedicating to answering any of your questions or study queries. Mentors are seasoned fitness professionals with years of experience in the industry and can be contacted via email, online or over the phone. As an AIPT student, you will also have access to the My eCampus learning portal where you will be able to download course content and submit assessments.