In a nutshell
Studying with AIPT means you'll graduate industry-ready.
Looking to take your fitness career to the next level? Expand your skillset and gain the right qualifications to work as a registered personal trainer with this online SIS40215 Certificate IV in Fitness course. Delivered by Australia's leading provider in practical fitness education, the Australian Institute of Personal Trainers, this program is designed to broaden your skills and qualify you to work with a larger range of clients.
The program will show you how to tailor exercise programs for children, adolescents and older clients; and covers a variety of core skills that will set you up for a long-term career in this dynamic industry. You will learn about training legalities, the specifics behind fitness planning, motivational psychology and what it takes to plan and run your own fitness business.
To successfully complete this course, you must undertake a total of 40 hours of practical work experience with a mentor in order to gain real-world training skills. AIPT will pair you with one of their expert mentors – a fitness professional – in their gym or fitness studio. Alternatively, you will have the opportunity to select your own AIPT-approved mentor.
You can also study this course on campus (52 hours of practical experience), with theory components delivered online in your own time. Intakes for the program, delivered in AIPT's fitness centres, open three times a year: February, June and October. Enquire to find out more!
(Visited 186 times, 1 visits today)
Studying with AIPT means you'll graduate industry-ready.
What you'll need
Education
You will need to have completed year 10, or equivalent. Equivalency can be demonstrated by one of the following:
A qualification at Certificate II level or higher OR
2 years of industry experience in a role that requires the use of written documentation and communication.
Minimum Age
You will need to be at least 16 years old. If you are under 18 your enrolment form will need to be signed by a parent or guardian.
Residency Status
You will need to be a permanent Australian resident or equivalent.
Computer Requirements
In order to complete the on-line part of the course you will need regular access to the following:
Computer: Laptop or desktop computer with working speakers or headphone points
Internet:High  speed internet such as Broadband or ADSL, T1/T2, fibre optic or cable (Dial-up access will be significantly slower and is not recommended)
Windows : Operating system – Windows XP or Vista 7 or above. Internet Browser – Internet Explorer 7 or higher or the latest version of Google Chrome
MAC :  Operating system: OS X 10.4 or later. Internet Browser – latest version of Google Chrome
Software: Flash, Adobe Reader, Microsoft Word (or Open Office which is free to download
 To be able to complete the practical components of the course, you must also hold a current Working With Children Check, First Aid qualification, CPR Certificate.
Subject summary
In this fitness course, the units of competency you may study include:
SISFFIT019 - Incorporate exercise science principles into fitness programming
SISFFIT018 - Promote functional movement capacity
SISFFIT015 - Collaborate with medical and allied health professionals in a fitness context
SISFFIT025 - Recognise the dangers of providing nutrition advice to clients
SISFFIT026 - Support healthy eating through the Eat for Health Program
SISFFIT016 - Provide motivation to positively influence exercise behaviour
SISXRES001 - Conduct sustainable work practices in open spaces
SISFFIT021 - Instruct personal training programs
SISFFIT023 - Instruct group personal training programs
SISFFIT017 - Instruct long-term exercise programs
SISFFIT020 - Instruct exercise programs for body composition goals
SISSSTC301A - Instruct strength and conditioning techniques
SISSSTC402A - Develop strength and conditioning programs
SISFFIT012 - Instruct movement programs to children aged 5 to 12 years
SISFFIT013 - Instruct exercise to young people aged 13 to 17 years
BSBSMB401 - Establish legal and risk management requirements of small business
BSBSMB404 - Undertake small business planning
BSBSMB403 - Market the small business
BSBSMB405 - Monitor and manage small business operations
SISFFIT014 - Instruct exercise to older clients
Why
Australian Institute of Personal Trainers

?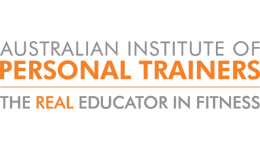 RTO 32363
The Australian Institute of Personal Trainers (AIPT) are experts in wellness, nutrition and fitness, and equip their students with the best in online and face-to-face education. Established in 1999 alongside their partner Registered Training Organisation, Foundation Education, they have grown from a handful of campuses in Queensland to over 150 campuses and an extensive network of Mentors Australia-wide. When you study with AIPT you have access to:
Dedicated student support
Access to a dedicated team of Support Officers to make the transition into study as straightforward as possible.
Largest network of locations
We have the industry's largest network of gyms across Australia, ensuring we're in your area.
Flexible delivery options
AIPT caters to all learning styles and offers flexible study options to suit everyone's schedules and budget, with a focus on practical learning and hands-on experience.
Throughout your studies as an AIPT student, you will have complete access to their expert education team – a group of mentors who are dedicating to answering any of your questions or study queries. Mentors are seasoned fitness professionals with years of experience in the industry and can be contacted via email, online or over the phone. As an AIPT student, you will also have access to the My eCampus learning portal where you will be able to download course content and submit assessments.