In a nutshell
The Bachelor of Social Science (Psychology)/Bachelor of Business from Charles Sturt University is a highly specialised double degree that fosters the professional, organisational and communication skills required to forge a successful career in business management.
By combining the study of human behavioural processes with fundamental business training, students will receive a multidisciplinary grounding in skills crucial to effective management.
The course is designed to develop critical analysis and scientific methods, and aims to prepare students to ask the right questions, search for relevant data and interpret results. Students will also be trained to become highly dynamic communicators, with the course targeting skills such as rational argument, critical evaluation and effective listening and writing. 
Distance education students should also note this course includes a compulsory residential school component for some subjects. 
(Visited 19 times, 1 visits today)
What you'll need
To be eligible to enter this program, applicants must:
Have completed the Higher School Certificate with an ATAR of at least 66 or equivalent
AND
Meet minimum requirements for English language proficiency
Subject summary
In this Bachelor of Social Science (Psychology)/Bachelor of Business course, the subjects you will study include:
Bachelor of Social Science (Psychology) core subjects:
Foundations of psychology 1
Foundations of psychology 2
Introduction to psychological enquiry
Research methods and statistics in psychology
Developmental psychology
Social psychology
Psychological testing
Biopsychology
Advanced research methods and statistics in psychology
Qualitative research methods
And at least three of the following subjects:
Language and subjectivity
Psychopathology
Psychology of personality
Cognition
Psychology of learning
Plus one subject chosen from the remaining core level 3 psychology subjects, OR from the following:
Indigenous Australians and psychology: an introduction
Psychology of crime
Health psychology
Psychology of substance abuse
Psychology international experience
Psychology and the legal system
Compulsory sociology subjects:
Introductory sociology
Social inequality
Bachelor of Business core subjects:
Business economics
Organisations and management
Ethics and sustainability culture
Foundation subjects (choose at least two):
Accounting 1: information for businesses
Business placement
Communication and information management
Business law
Marketing and society (excluded for students majoring in marketing)
Human resource management specialisation subjects:
Human resource management
Developing human resources
Issues in human resource management
Strategic human resource management
And at least four subjects from the following:
Labour economics
Industrial relations in Australia
Organisational behaviour
Managing change
Business strategy
Leadership issues
Management specialisation subjects:
Human resource management
Organisational behaviour
Service operations management
Business strategy
And at least four subjects from the following:
Industrial relations in Australia
Business organisations law
E-commerce
Project management
Managing change
International business management
Leadership issues
Marketing specialisation subjects:
Marketing and society
Buyer behaviour
Market research
Strategic marketing management
And at least four subjects from the following:
Brand management
Market analysis
International marketing
Marketing communications
Marketing of services
B2B marketing
Product innovation management
Why
Charles Sturt University

?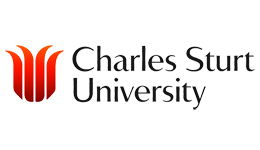 One of the first universities to adopt distance education study, Charles Sturt University (CSU) is Australia's leading university in online education and continues to strive for innovation and excellence in higher learning. With a track record in graduate employment and strong industry contacts, CSU offers relevant training and workplace skills at both an undergraduate and postgraduate level. CSU specialises in a range of industries such as agriculture, viticulture, education, librarianship, allied health and criminology.
Charles Sturt has 16 campuses in the eastern states of Australia. All CSU students can attend any campus for support and to use available facilities. Campus locations include: Albury-Wodonga, Bathurst,  Dubbo, Orange,  Port Macquarie, Wagga Wagga.
CSU offers a range of student support services, academic learning support and skills development for all its distance education students. Studying with CSU, you will have access to your online subjects, Student Services, the CSU Library, forums and your exam results through student.csu, a personalised online portal.
You will also have entry into CSU Interact, a scholarly environment that connects students and staff online. Each subject you're enrolled in will have its own subject site housed within CSU Interact, giving you access to learning content, tools and subject forums.
Campus locations
This course can be delivered on campus to provide you with practical training in a face-to-face learning environment. It is available to study at the following locations:
You can also choose to study this course entirely online.