In a nutshell
The business world is increasingly globalised and changing, and Ducere is committed to giving you a competitive edge with this engaging industry focused course. The Graduate Certificate of Business Administration course prepares you for the next steps in your career. Throughout the course, you will have academic and professional support, and have the opportunity to expand your network at student and industry events.
Key study areas covered in this postgraduate program include organisation culture, leadership, finance, ethics and decision making. The online program is designed to be flexible and to meet your industry's needs as well as your own. 
(Visited 12 times, 1 visits today)
What you'll need
To be eligible to enrol in this course, you must:
Have a business or related degree; OR
Have an unrelated degree combined with 3+ years professional experience; OR
Have 7+ years of professional experience
Each application will be considered on a case by case basis.
Subject summary
In this entrepreneurship course, the key content areas you will cover include:
People and culture
Leadership
Ethics and decision making
Finance for managers
Why
Dūcere

?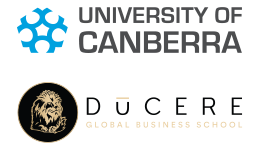 From flexible and self-directed online study, to real-world business projects and dynamic industry events, Dūcere has designed their programs to meet the needs of the modern learner. Their bachelor's degrees and MBA program blend immersive online learning with an applied assessment approach. Under this model, Dūcere students decide when and how they study, whilst completing practical assessments that are relevant to their own career needs and to the needs of industry. So instead of exams, you could be working on business plans, project case studies and more, while enjoying access to Australia's most industry-relevant course curriculum and content.
However you choose to study, you'll receive personalised support and advice through Dūcere's student support teams, along with in-depth practical feedback from their academic staff. At every stage of your journey, Dūcere will work with you to cultivate the digital literacy, critical know-how and entrepreneurial skill sets required for success in an economy transformed by innovation.