About this course
Equip yourself with a dual qualification that gives you an advantage when entering the education support sector with this CHC30213 Certificate III in Education Support and CHC40213 Certificate IV in Education Support course.
Delivered online by Foundation Education, the coursework will give you an understanding of how to plan, organise and develop group-based learning, support childhood literacy, numeracy and oral skills development and provide support to children, including those with additional needs.
The online units are coupled with 100 hours of practical work placement to give you hands-on experience in a childhood education setting, ensuring that you have a firm grasp on what it takes to be a skilled teacher's aide.
Work placement
As part of this course, you will need to organise and complete a minimum of 100 hours of work placement at an education provider.
(Visited 227 times, 1 visits today)
Prerequisites
Anyone can apply, however candidates will require access to an education environment, a supervisor who is able to sign off on practical demonstration elements for their work placement, and a commitment to undertaking the unit HLTAID003 - Provide First Aid through an external provider.
Subjects
In this education course, the subjects you may study include:
CHCEDS001 - Comply with legislative, policy and industrial requirements in the education environment
CHCEDS002 - Assist implementation of planned educational programs
CHCEDS003 - Contribute to student education in all developmental domains
CHCEDS004 - Contribute to organisation and management of classroom or centre
CHCEDS005 - Support the development of literacy and oral language skills
CHCEDS006 - Support the development of numeracy skills
CHCEDS007 - Work effectively with students and colleagues
CHCEDS017 - Contribute to the health and safety of students
CHCEDS018 - Support students with additional needs in the classroom environment
CHCECE006 - Support behaviour of children and young people
CHCEDS024 - Use educational strategies to support Aboriginal and/or Torres Strait Islander education
CHCEDS025 - Facilitate learning for students with disabilities
CHCDIV001 - Work with diverse people
CHCDIV002 - Promote Aboriginal and/or Torres Strait Islander cultural safety
CHCPRT001 - Identify and respond to children and young people at risk
HLTWHS001 - Participate in workplace health and safety
*HLTAID003 - Provide first aid
CHCEDS023 - Supervise students outside the classroom
CHCPRP001 - Develop and maintain networks and collaborative partnerships
CHCEDS021 - Assist in facilitation of student learning
CHCEDS022 - Work with students in need of additional support
CHCEDS032 - Support learning and implementation of responsible behaviour
CHCPRP003 - Reflect on and improve own professional practice
* Please note that unit HLTAID003 – Provide first aid must be completed through an external provider.
Why
Foundation Education

?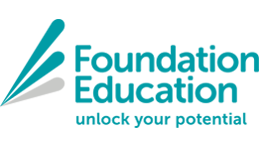 RTO 22557
Foundation Education is one of the few Registered Training Organisations (RTO) in Australia who endeavours to deliver flexible online training solutions designed to fit their students' lifestyles. Since 1999, they've been focused on providing excellence in Vocational Education and Training and building partnership networks that drive quality graduates across each industry, alongside their partner RTO, the Australian Institute of Personal Trainers (AIPT).
With more than 60 nationally recognised certificate and diploma level courses on offer, the Foundation Education difference means:
Flexible Online Study
Foundation Education's courses are delivered online so you can study whenever and wherever suits you. This also gives you the flexibility to choose your course length – whether that be the full term of your course or as little as six months.
Dedicated Student Support
Foundation Education's industry experienced Technical Advisors, Assessors and Support Officers will support you from enrolment through to graduation.
Industry Relevant Courses
Course material is developed in consultation with industry experts to equip you with the job-ready skills and up-to-date knowledge required to support your career goals.
Studying with Foundation Education, you will be supported by an experienced trainer currently working in the industry. You will receive ongoing and personalised support with your assignments and career goals, and have access to coaching and advice from industry professionals. With state-of-the-art technology, you will have access to your course materials 24/7, meaning you can truly study when and where you want.