In a nutshell
Build practical skills for a versatile career in the business world by studying this online Certificate III in Business Administration course from Harvest Education Technical College. 
Part-time and short-term, this flexible course is suited for people seeking a practical new role in business administration, or looking to build broad business skills. In this foundation course, you'll learn how to think strategically and make decisions, complete routine business activities, and work in a professional business environment. 
In just four months of study, this course offers a recognised, competitive qualification in business administration. If you're looking to work in accounts, payroll, office management or business administration, and want to build useful skills quickly, this course is for you. 
(Visited 27 times, 1 visits today)
What you'll need
There are no academic or work experience prerequisites for this course. Applicants must have basic computer skills and access to a computer. 
Subject summary
In this business course, the subjects you may study include:
BSBWHS201 – Contribute to health and safety of self and others
BSBADM307 – Organise schedules
BSBWRT301 – Write simple documents
BSBCUS301 – Deliver and monitor a service to customers
BSBPR301 - Recommend products and services
BSBADM311 – Maintain business records
BSBPUR301 – Purchase goods and services
BSBITU307 – Develop keyboarding speed and accuracy
BSBITU302 – Create electronic presentations
BSBITU303 – Design and produce text documents
BSBITU306 – Design and produce business documents
BSBFIA302 – Process payroll
BSBITU309 – Produce desktop published documents
Why
Harvest Education Technical College

?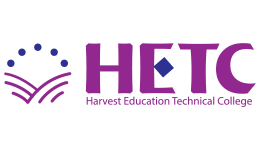 Harvest Educational Technical College (HETC) has a mantra to "Empower people to become persons of influence". By studying at HETC, you join the ranks of thousands before you who have embraced that vision and achieved the status of persons of influence.
HETC's selection of online, on-campus and blended courses offer you the right learning resources and support to get you on your dream career path.  From business and human resources to community services, youth work, hospitality and more, HETC has courses in it all!
HETC's innovative online courses will offer you the right learning resources and support to get you on your dream career path. HETC apply the 80/20 rule to the delivery of their courses which means 80% of your learning will be practical and hands-on, and 20% theory. Enjoy learning the HETC way!
Campus locations
This course can be delivered on campus to provide you with practical training in a face-to-face learning environment. It is available to study at the following locations:
You can also choose to study this course online with some on-campus components (blended learning).