In a nutshell
Turn your creativity into a career and build in-demand practical skills for a rewarding role in the gaming industry. It starts with this online Diploma of Digital and Interactive Games course from Harvest Education Technical College. 
A practical, specialised course requiring no prior study or work experience for admission, this course is designed for people starting their careers or seeking a career change. With an flexible online delivery, this part-time course is highly focused and delivers a competitive qualification within one year. 
In this course, you'll study key elements of digital game design, including character and environment design, and develop a strong understanding of the contemporary challenges and context that influence the gaming industry.
With focused, practical assessments, you'll have opportunities to challenge your design skills, and will graduate qualified to seek a range of exciting design and development roles in the emerging Australian gaming industry. 
(Visited 6 times, 1 visits today)
What you'll need
To be eligible to study this course, applicants must meet the following entry requirements:
Be aged over 16 years; AND
Be an Australian citizen or permanent resident; AND
Have intermediate computer skills. 
Subject summary
In this digital media course, the subjects you may study include:
BSBSUS501 – Develop workplace policy and procedures for sustainability
BSBWH403 – Contribute to implementing and maintaining WHS consultation and participation processes
BSBWOR501 – Manage personal work priorities and professional development
ICTGAM501 – Create design concepts for digital games and 3D media
ICTGAM503 – Create a complex 3D interactive computer game
ICTGAM514 – Design and create models for a 3D and digital effects environment
ICTGAM516 – Animate a 3D character for digital games
ICTGAM517 – Produce a digital animation sequence
ICTGAM519 – Manage technical art and rigging in 3D animation
ICTGAM520 – Create and combine 3D digital games and components
ICTGAM521 – Create interactive 3D environments for digital games
ICTGAM523 – Collaborate in the design of 3D game levels and environments
ICTGAM526 – Create complex 3D characters for games
ICTGAM528 – Create games for mobile devices
ICTICT419 – Work effectively in the digital media industry
ICTPMG501 – Manage ICT projects
Why
Harvest Education Technical College

?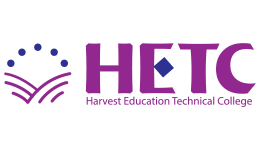 Harvest Educational Technical College (HETC) has a mantra to "Empower people to become persons of influence". By studying at HETC, you join the ranks of thousands before you who have embraced that vision and achieved the status of persons of influence.
HETC's selection of online, on-campus and blended courses offer you the right learning resources and support to get you on your dream career path.  From business and human resources to community services, youth work, hospitality and more, HETC has courses in it all!
HETC's innovative online courses will offer you the right learning resources and support to get you on your dream career path. HETC apply the 80/20 rule to the delivery of their courses which means 80% of your learning will be practical and hands-on, and 20% theory. Enjoy learning the HETC way!