In a nutshell
Start an exciting new career working hands-on with people by studying this online Diploma of Human Resources Management Course from Harvest Education Technical College. 
The human resources profession in Australia is growing at a rate of nearly twice the national average, according the the Department of Labour, and skilled human resources leaders are in high demand. By studying this online, part-time course, you could be qualified to take a leading role within a year, with no previous work experience or study required. 
This introductory course covers the foundations of human resources management, and will equip you with the knowledge and skills required to work professionally in human resources across the private, public and not-for-profit sectors. You'll learn about employee recruitment and inductions, managing employee relations, implementing strategic and operational plans, and supporting a safe workplace by implementing workplace health and safety policies.
In this course, you'll build both the professional skills and the personal insights required to support and lead strong teams. You'll develop your communication skills, emotional intelligence and critical thinking ability, positioning you to manage standout human resources programs in your future career.
(Visited 6 times, 1 visits today)
What you'll need
To be eligible to study this course, applicants must meet the following entry requirements:
Be aged over 16 years; AND
Be an Australian citizen or permanent resident
Subject summary
In this human resources course, the subjects you may study include:
BSBHRM506 – Manage recruitment selection and induction processes
BSBSUS501 – Develop workplace policy and procedures for sustainability
BSBHRM513 Manage workforce planning
BSBMGT616 – Develop and implement strategic plans
BSBHRM501 – Manage human resources services
BSBHRM505 – Manage remuneration and employee benefits
BSBHRM512 – Develop and manage performance-management processes
BSBWHS401 – Implement and monitor WHS policies, procedures and programs to meet legislative requirements
BSBWRK510 – Manage employee relations
Why
Harvest Education Technical College

?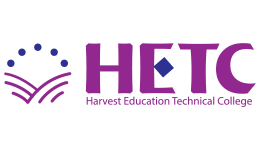 Harvest Educational Technical College (HETC) has a mantra to "Empower people to become persons of influence". By studying at HETC, you join the ranks of thousands before you who have embraced that vision and achieved the status of persons of influence.
HETC's selection of online, on-campus and blended courses offer you the right learning resources and support to get you on your dream career path.  From business and human resources to community services, youth work, hospitality and more, HETC has courses in it all!
HETC's innovative online courses will offer you the right learning resources and support to get you on your dream career path. HETC apply the 80/20 rule to the delivery of their courses which means 80% of your learning will be practical and hands-on, and 20% theory. Enjoy learning the HETC way!