In a nutshell
Build stand-out skills and become a business or not-for-profit leader by studying this exciting online Diploma of Leadership and Management course from Harvest Education Technical College. 
With no previous work experience or academic qualification required, this online course is ideal for self-motivated people seeking to start new careers in management. Covering foundation concepts of management and leadership, this course will equip you with the skills and knowledge to competently lead and manage teams, manage risk and business operations, make decisions and plan strategically, and promote safety and diversity in the workplace. 
With four core units and eight elective units, this course offers flexibility to ensure you're studying what's most relevant to you. You will have the opportunity to specialise in technical marketing and communication skills, develop your personal abilities and emotional intelligence, or build practical skills in meeting management and organisational management. 
If you're seeking a career change or progression, this online course will enable you to build competitive and sought-after skills in less than one year. 
(Visited 7 times, 1 visits today)
What you'll need
To be eligible to study this course, applicants must meet the following entry requirements:
Be aged over 16 years; AND
Be an Australian citizen or permanent resident
Applicants must also have their own computer and access to fast internet.
Subject summary
In this management course, the subjects you may study include:
BSBWOR501 – Manage personal work priorities and professional development
BSBLDR501 – Develop and use emotional intelligence
BSBLDR502 – Lead and manage effective workplace relationships
BSBMKG502 – Establish and adjust the marketing mix
BSBWOR502 – Lead and manage team effectiveness
BSBWRT501 – Write persuasive copy
BSBRSK501 – Manage risk
BSBADM502 – Manage meetings
BSBWHS501 – Ensure a safe workplace
BSBCUS501 – Manage quality customer service
BSBINM501 – Manage an information or knowledge management system
BSBMGT517 – Manage operational plan
Why
Harvest Education Technical College

?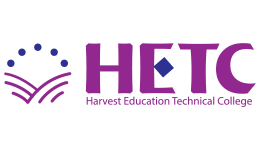 Harvest Educational Technical College (HETC) has a mantra to "Empower people to become persons of influence". By studying at HETC, you join the ranks of thousands before you who have embraced that vision and achieved the status of persons of influence.
HETC's selection of online, on-campus and blended courses offer you the right learning resources and support to get you on your dream career path.  From business and human resources to community services, youth work, hospitality and more, HETC has courses in it all!
HETC's innovative online courses will offer you the right learning resources and support to get you on your dream career path. HETC apply the 80/20 rule to the delivery of their courses which means 80% of your learning will be practical and hands-on, and 20% theory. Enjoy learning the HETC way!