In a nutshell
Take the first step on your new career path and gain workplace-ready experience in six months by studying this online Diploma of Business course from Harvest Technical College.
With no previous academic qualifications or work experience required for entry, this course is an accessible and dynamic option for anyone looking to change career paths or start their career in business. With a broad focus on key elements of business administration, including risk management, project work, and people management, this course provides a strong foundation of general business knowledge for new students.
Part-time and online, this course offers flexibility and freedom while you study, and gives you opportunities to put your new knowledge into practise in a work environment. 
After completing this course, you may choose pursue employment in a broad range of business roles, including working as a project or program coordinator, or you may pursue further study to specialise the knowledge developed in this introductory course. 
(Visited 7 times, 1 visits today)
What you'll need
To be eligible to study this course, applicants must meet the following entry requirements:
Be aged over 16 years; AND
Be an Australian citizen or permanent resident. 
Subject summary
In this business course, the subjects you may study include:
BSBWOR501 – Manage personal work priorities and professional development
BSBMKG502 – Establish and adjust the marketing mix
BSBRSK501 – Manage risk
BSBADM502 – Manage meetings
BSBPMG522 – Undertake project work
BSBHRM505 – Manage remuneration and employee benefits
BSBCUS501 – Manage quality customer service
BSBMGT502 – Manage people performance
Why
Harvest Education Technical College

?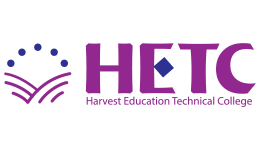 Harvest Educational Technical College (HETC) has a mantra to "Empower people to become persons of influence". By studying at HETC, you join the ranks of thousands before you who have embraced that vision and achieved the status of persons of influence.
HETC's selection of online, on-campus and blended courses offer you the right learning resources and support to get you on your dream career path.  From business and human resources to community services, youth work, hospitality and more, HETC has courses in it all!
HETC's innovative online courses will offer you the right learning resources and support to get you on your dream career path. HETC apply the 80/20 rule to the delivery of their courses which means 80% of your learning will be practical and hands-on, and 20% theory. Enjoy learning the HETC way!