In a nutshell
Make a real difference in the lives of others and build in-demand skills for a growing sector by studying this online Diploma of Community Services from Harvest Education Technical College. 
A broad, introductory course, this qualification is suited for anyone looking to work in community services, case management, social housing, community nursing and other person-centred care roles. 
Flexible and online, this course covers key community service areas, including workplace health and safety, diversity promotion, Indigenous health and mental health, and will equip you with the foundation skills and knowledge required to work in an exciting growth sector.
Job opportunities in the human services sector have increased by 25 percent over the past five years, according to the Department of Labour, and with an ageing population and funding for the National Disability Insurance Scheme, qualified professionals can expect to enjoy a broad range of exciting new job opportunities. 
Start your career helping people and be ready to work within a year by studying this flexible online course. 
(Visited 31 times, 1 visits today)
What you'll need
To be eligible to study this course, applicants must meet the following entry requirements:
Be aged over 16 years; AND
Be an Australian citizen or permanent resident
Subject summary
In this community services course, the subject you may study include:
HLTWHS004 – Manage work health and safety
CHCLEG003 – Manage legal and ethical compliance
CHCCOM003 – Develop workplace communication strategies
CHCDIV003 – Manage and promote diversity
CHCPRP003 – Reflect on and improve own professional practice
CHCDEV002 – Analyse impacts of sociological factors on clients in community work and services
CHCMGT005 – Facilitate workplace debriefing and support processes
CHCCCS007 – Develop and implement service programs
CHCYTH001 – Engage respectfully with young people
CHCDIV002 – Promote Aboriginal and/or Torres Strait Islander cultural safety
CHCCSM005 – Develop, facilitate and review all aspects of case management
CHCCDE003 – Work within a community development framework
CHCCCS004 – Assess co-existing needs
CHCCCS003 – Increase the safety of individuals at risk of suicide
CHCAOD009 – Develop and review individual alcohol and other drugs treatment plans
CHCMHS001 – Work with people with mental health issues
Why
Harvest Education Technical College

?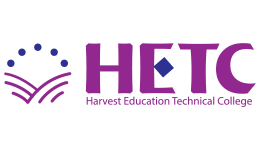 Harvest Educational Technical College (HETC) has a mantra to "Empower people to become persons of influence". By studying at HETC, you join the ranks of thousands before you who have embraced that vision and achieved the status of persons of influence.
HETC's selection of online, on-campus and blended courses offer you the right learning resources and support to get you on your dream career path.  From business and human resources to community services, youth work, hospitality and more, HETC has courses in it all!
HETC's innovative online courses will offer you the right learning resources and support to get you on your dream career path. HETC apply the 80/20 rule to the delivery of their courses which means 80% of your learning will be practical and hands-on, and 20% theory. Enjoy learning the HETC way!