In a nutshell
Take the first step in a professional health career by studying this hands-on Diploma of Remedial Massage course from Harvest Education Technical College. 
This practical course requires no previous work experience or academic qualification and is ideal for anyone seeking a rewarding new career in health and wellness. With a focus on technical ability and hands-on assessment, this accredited course will equip you with industry-leading skills and enable you to stand out in the competitive health sector. 
You will complete up to 200 hours of massage practise in this course, and attend to up to 100 clients, providing you with highly sought-after professional experience upon course completion.
More than relaxation, the techniques taught in this course will enable you to manipulate body soft tissue in athletes and people suffering from chronic injury and illness. You'll learn complementary techniques in reflexology and first aid, enabling you to deliver safe and trustworthy holistic care. 
This course also covers key elements of small business management and workplace health and safety. If you want to build an exciting new professional career and are interested in helping others, a rewarding and hands-on career in remedial massage is for you. 
(Visited 20 times, 1 visits today)
What you'll need
To be eligible to study this course, applicants must meet the following entry requirements:
Be aged over 16 years; AND
Be an Australian citizen or permanent resident
Applicants must also have basic computer skills and access to a computer.
Subject summary
In this massage course, the subjects you may study include:
CHCCOM006 – Establish and manage client relationships
HLTAID003 – Provide first aid
HLTWHS004 – Manage work health and safety
HLTINF004 – Manage the prevention and control of infection
HLTMSG004 – Provide massage treatments
CHCPRP005 – Engage with health professionals and the health system
CHCDIV001 – Work with diverse people
HLTMSG002 – Assess client massage needs
HLTMSG001 – Develop massage practice
BSBSMB404 – Undertake small business planning
CHCLEG003 – Manage legal and ethical compliance
HLTAAP003 – Analyse and respond to client health information
CHCCCS001 – Address the needs of people with chronic disease
HLTREF002 – Provide reflexology for relaxation
HLTMSG007 – Adapt remedial massage practice for athletes
HLTMSG006 – Adapt remedial massage practice to meet specific needs
HLTMSG003 – Perform remedial massage musculoskeletal assessments
CHCPOL003 – Research and apply evidence to practice
HLTMSG005 – Provide remedial massage treatments
HLTMSG008 – Monitor and evaluate remedial massage treatments
CHCPRP003 – Reflect on and improve own professional practice
Why
Harvest Education Technical College

?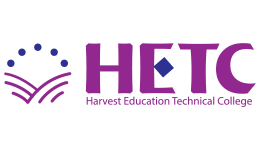 Harvest Educational Technical College (HETC) has a mantra to "Empower people to become persons of influence". By studying at HETC, you join the ranks of thousands before you who have embraced that vision and achieved the status of persons of influence.
HETC's selection of online, on-campus and blended courses offer you the right learning resources and support to get you on your dream career path.  From business and human resources to community services, youth work, hospitality and more, HETC has courses in it all!
HETC's innovative online courses will offer you the right learning resources and support to get you on your dream career path. HETC apply the 80/20 rule to the delivery of their courses which means 80% of your learning will be practical and hands-on, and 20% theory. Enjoy learning the HETC way!
Campus locations
This course can be delivered on campus to provide you with practical training in a face-to-face learning environment. It is available to study at the following locations: