In a nutshell
Finance – one of the world's largest and most diverse fields, couple with a strong business acumen and you've got a powerful combination. Build your skills with Kaplan Business School's Bachelor of Business (Finance) and get qualified to work in a range of rewarding, challenging and fast-paced sectors.
Armed with your degree you'll be able to increase your income potential, expand your network and boost your career prospects. The course offers relevant core subject like economics, business communication, corporate finance, and portfolio and fund management; as well as diverse electives including the hospitality and tourism market, consumer behaviour, strategic management and taxation law – just to name a few.
Study on campus and experience what makes Kaplan Business School of leaders in business education!
(Visited 21 times, 1 visits today)
What you'll need
To be eligible for entry into this course, applicants must meet the following requirements:
Qualify for mature age entry (ages 21 and above); OR
Have achieved a minimum ATAR score of 55, or equivalent; OR
Have completed the VCE, OP or SACE; OR
Provide an academic letter of recommendation
Kaplan Business School also offers a range of alternative entry pathways if you don't meet these criteria. Enquire now to chat with a course advisor!
Subject summary
In this business and finance course, the subject you may study include:
Core subjects:
Business Communication 
Introduction to Management
Accounting for Managers
Economics
Business Information Systems
Marketing Principles
Commercial Law
Quantitative Analysis
Financial Institutions & Markets
Advanced Economics
Corporate Finance
Applied Investment Management
Portfolio and Fund Management
Derivatives and Risk Management
Multinational Business Finance and International Trade
Applied Corporate Strategies
Elective subjects: 
Foundations of Academic Success 1 (Numeracy)
Foundations of Academic Success 2 (English)
Foundations of Academic Success 3 (Study Skills)
Introduction to Economics
Financial Accounting
Accounting Information Systems
Financial Accounting 2 
Corporations Law
Management Accounting 1 
Introduction to Hospitality & Tourism 
The Hospitality & Tourism Market
Hospitality and Tourism Management
Human Resource Management
Performance Management 
Organisational Behaviour 
Business Ethics
Logistics and Supply Chain Management
Integrated Marketing Communications
Marketing Research Essentials
Services Marketing
Foundations of Workplace Success
Accounting Theory and Contemporary Issues
Auditing and Assurance
Company Accounting
Taxation Law
Management Accounting 2
Attraction and Event Management
Food and Beverage Management
Accommodation Management 
Emerging Issues in Hospitality and Tourism
Industrial Relations
Managing Change
International Human Resource Management 
Business Research 
Strategic Management 
Entrepreneurship and Innovation 
Issues in International Business
Consumer Behaviour
Digital Marketing 
International Marketing
Strategic Marketing (Capstone)
Project Management
Internship 1
Internship 2
Why
Kaplan Business School

?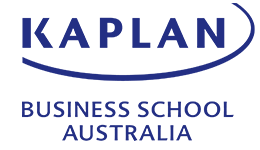 Kaplan Business School provides holistic business education that equips students with the knowledge, skills and tools required to manage, lead, and succeed in a real work environment.
Kaplan Business School's qualifications are delivered through a unique blend of practical and theoretical components. Here, students are required to complete assessments that reflect global industry practices.
Kaplan Business School offers academic internships and work placements through an extensive network of partner companies. Each campus has an on-site Careers Officer who helps to place students based on their industry needs.
Kaplan Business School supports its students at every stage of the educational journey, and offers personalised, student-driven programs. This includes the unique Career Mentorship Program, which pairs Kaplan students with industry leaders. This gives students the opportunity to build their professional networks and gain valuable industry insights.
Kaplan Business School help their students achieve career success with Careers Central, their on-campus careers services team. Careers Central services include an industry placement service, which enables students to put theory into practice. Search for the perfect job using Career Hub, Kaplan's online job board. Kaplan students get support in achieving their career goals with 1-on-1 careers coaching.
Campus locations
This course can be delivered on campus to provide you with practical training in a face-to-face learning environment. It is available to study at the following locations: