In a nutshell
It does everything from electing presidents to protecting against cyber-crime, and now big data could be the thing that changes your career path. This innovative Master of Business Administration (Digital Management) at Kaplan Business School is the next move for any savvy thinker seeking a leading role in the disruptive digital economy.
There's growing demand from businesses for analytical minds capable of processing huge volumes of data quickly, and this course trains and equips you with the knowledge required to leverage that thinking for smart business.
You'll study a broad range of business management skills, including disruptive strategising, governance, ethics and sustainability, data analysis and digital operations, and problem-solving and strategic thinking, and understand the complicated social, cultural and environmental context in which business decisions are made – positioning you to enable any business to succeed in the digital environment.
With practical assessments, you'll have the opportunity to put your knowledge into practice, applying your new skills in real-world scenarios. Small class sizes and an online learning option make this course ideal for professionals seeking flexibility, offering a perfect opportunity for an ambitious leader seeking to diversify and modernise their existing business skillset.
(Visited 25 times, 1 visits today)
What you'll need
To be eligible for entry into this course, applicants must meet the following requirements:
Qualify for mature age entry (ages 21 and above); OR
Have achieved a minimum ATAR score of 55, or equivalent; OR
Have completed the VCE, OP or SACE; OR
Provide an academic letter of recommendation
Kaplan Business School also offers a range of alternative entry pathways if you don't meet these criteria. Enquire now to chat with a course advisor!
Subject summary
In this business course, the subjects you may study include:
Core subjects:
Culture and contemporary leadership
Governance, ethics and sustainability
Financial and economic interpretation and communication
Consumer behaviour and marketing psychology
Dynamic strategy and disruptive innovation
Emotional intelligence, cultural intelligence and diversity
Operations management and decision-making models
Data analysis, problem solving and digital operations
Business psychology, coaching and mentoring
Thinking styles, negotiation and conflict management
Elective subjects for Digital Management specialisation:
Digital marketing and communication
Knowledge management
Digital analytics, big data and technologies
Capstone
You may be eligible for Recognition of Prior Learning (RPL) if your previous education or work experience meet certain criteria.
Why
Kaplan Business School

?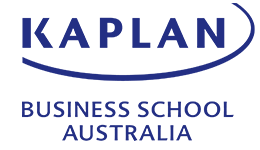 Kaplan Business School provides holistic business education that equips students with the knowledge, skills and tools required to manage, lead, and succeed in a real work environment.
Kaplan Business School's qualifications are delivered through a unique blend of practical and theoretical components. Here, students are required to complete assessments that reflect global industry practices.
Kaplan Business School offers academic internships and work placements through an extensive network of partner companies. Each campus has an on-site Careers Officer who helps to place students based on their industry needs.
Kaplan Business School supports its students at every stage of the educational journey, and offers personalised, student-driven programs. This includes the unique Career Mentorship Program, which pairs Kaplan students with industry leaders. This gives students the opportunity to build their professional networks and gain valuable industry insights.
Kaplan Business School help their students achieve career success with Careers Central, their on-campus careers services team. Careers Central services include an industry placement service, which enables students to put theory into practice. Search for the perfect job using Career Hub, Kaplan's online job board. Kaplan students get support in achieving their career goals with 1-on-1 careers coaching.
Campus locations
This course can be delivered on campus to provide you with practical training in a face-to-face learning environment. It is available to study at the following locations:
You can also choose to study this course entirely online.