In a nutshell
Have a knack for working with kids? Passionate about helping them grow, learn and develop? Being a schoolteacher isn't the only career path! Why not study a Certificate III in Early Childhood Education and Care (CHC30113) with Kirana? 
To work in this industry, you need to have (or be working towards) an approved Cert III level qualification, so this jam-packed course is the perfect place to start. It provides you with everything you need to start your career in the early childhood sector. From learning the basics of caring for young children to nurturing their learning and development, you'll be well-versed in all things child care and ready to seek out your dream role.
Working in early childhood education and care is fun, challenging and rewarding – and it's also a fast-growing sector in Australia. So what are you waiting for? This could be the first step in an amazing career!
(Visited 11 times, 1 visits today)
What you'll need
There are no eligibility requirements for this course. However, students will need to obtain a Working with Children Check and a National Police Check.
Subject summary
In this early childhood education course, the subjects you may study include:
CHCLEG001 - Work legally and ethically
CHCPRT001 - Identify and respond to children and young people at risk
CHCECE009 - Use an approved learning framework to guide practice
CHCECE004 - Promote and provide healthy food and drinks
CHCECE002 - Ensure the health and safety of children
CHCECE003 - Provide care for children
CHCECE005 - Provide care for babies and toddlers
CHCECE007 - Develop positive and respectful relationships with children
CHCECE001 - Develop cultural competence
CHCDIV002 - Promote Aboriginal and-or Torres Strait Islander cultural safety
HLTWHS001 - Participate in workplace health and safety
CHCECE010 - Support the holistic development of children in early childhood
CHCECE011 - Provide experiences to support children's play and learning
CHCECE013 - Use information about children to inform practice
HLTAID004 - Provide an emergency first aid response in an education and care setting
CHCECE006 - Support behaviour of children and young people
CHCECE012 - Support children to connect with their world
CHCPRP003 - Reflect on and improve own professional practice
CHCECE006 - Support behaviour of children and young people
CHCECE012 - Support children to connect with their world
CHCDIV001 - Work with diverse people
Why
Kirana Colleges

?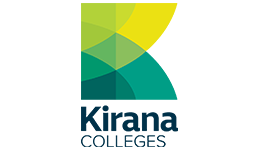 Get the skills and can-do attitude that employees are looking for when you get qualified with Kirana Education! They have a commitment to delivering work-ready courses and training to ensure students thrive and succeed.
Since its beginning in 2009, Kirana Education has grown to offer over 50 qualifications ranging from Certificate II to Advanced Diplomas. Their in-demand courses offer a platform to launch a career in childhood education and care, community services, business administration and more.
Have the flexibility to study online, on campus or enjoy a blended learning experience – the choice is yours and the opportunities are endless!
Kirana Education is all about providing their students with a positive and supportive learning experience, which is why they've developed the Student Assistance Program (SAP). SAP is a confidential and free counselling service which includes a dedicated 24/7 hotline and free counselling sessions (available in person or via Skype) to help keep your mental health and wellbeing on track.
Got a question or concern about your studies? Get help when you speak to an academic VET teacher on Kirana's Student Support Hotline or send an email to Student Support.