In a nutshell
If you're looking for the skills, knowledge and qualifications to pursue a rewarding career in the aged and home care industry, the Certificate IV in Ageing Support (CHC43015) from Kirana has everything you need.
Through this course, you can turn your passion for people into a career by gaining the key skills required to provide support to ageing people. You'll learn how to become a leader in any number of aged and home care settings, empowering and supporting older people to live fulfilled and happy lives.
Sounds like a great way to give back to the community, doesn't it? And with nursing support and personal care workers in more demand than ever, you'll have your pick of rewarding roles in residential, home and community environments.
(Visited 32 times, 1 visits today)
What you'll need
There are no eligibility requirements for this course. However, students will need to obtain a Working with Children Check and a National Police Check.
Subject summary
In this aged care course, the subjects you may study include:
CHCADV001 - Facilitate the interests and rights of clients
CHCAGE001 - Facilitate the empowerment of older people
CHCAGE003 - Coordinate services for older people
CHCAGE004 - Implement interventions with older people at risk
CHCAGE005 - Provide support to people living with dementia
CHCCCS006 - Facilitate individual service planning and delivery
CHCCCS011 - Meet personal support needs
HLTWHS002 - Follow safe work practices for direct client care
CHCCCS023 - Support independence and wellbeing
CHCCCS025 - Support relationships with carers and families
CHCDIV001 - Work with diverse people
CHCLEG003 - Manage legal and ethical compliance
CHCPAL001 - Deliver care services using a palliative approach
CHCPRP001 - Develop and maintain networks and collaborative partnerships
HLTAAP001 - Recognise healthy body systems
CHCCOM002 - Use communication to build relationships
CHCCCS001 - Address the needs of people with chronic disease
BSBMGT401 - Show leadership in the workplace
Why
Kirana Colleges

?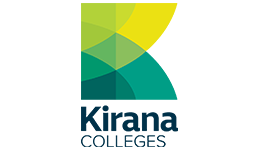 Get the skills and can-do attitude that employees are looking for when you get qualified with Kirana Education! They have a commitment to delivering work-ready courses and training to ensure students thrive and succeed.
Since its beginning in 2009, Kirana Education has grown to offer over 50 qualifications ranging from Certificate II to Advanced Diplomas. Their in-demand courses offer a platform to launch a career in childhood education and care, community services, business administration and more.
Have the flexibility to study online, on campus or enjoy a blended learning experience – the choice is yours and the opportunities are endless!
Kirana Education is all about providing their students with a positive and supportive learning experience, which is why they've developed the Student Assistance Program (SAP). SAP is a confidential and free counselling service which includes a dedicated 24/7 hotline and free counselling sessions (available in person or via Skype) to help keep your mental health and wellbeing on track.
Got a question or concern about your studies? Get help when you speak to an academic VET teacher on Kirana's Student Support Hotline or send an email to Student Support.