In a nutshell
Love working with kids? Passionate about making sure they have the right start in life? The Diploma of Early Childhood Education and Care (CHC50113) from Kirana is an ideal course to take your child care career to the next level.
Throughout this course, you'll learn how to shape the lives of children by planning, implementing and managing programs in education and care services. It's one of the most fulfilling jobs you can have: supporting and nurturing kids throughout one of the most important stages of their youth.
Not only is early childhood education and care a fun and rewarding career path, it's also an ever-growing industry. You'll have a range of job roles to choose from when you graduate, and you'll be contributing to the community while doing what you love (and what you're good at!).
(Visited 8 times, 1 visits today)
What you'll need
There are no eligibility requirements for this course. However, students will need to obtain a Working with Children Check and a National Police Check.
Subject summary
In this early childhood education course, the subjects you may study include:
CHCECE009 - Use an approved learning framework to guide practice
CHCECE016 - Establish and maintain a safe and healthy environment for children
CHCECE017 - Foster the holistic development and wellbeing of the child in early childhood
CHCECE018 - Nurture creativity in children
CHCECE019 - Facilitate compliance in an education and care service
CHCECE020 - Establish and implement plans for developing cooperative behaviour
CHCECE021 - Implement strategies for the inclusion of all children
CHCECE022 - Promote children's agency
CHCECE023 - Analyse information to inform learning
CHCECE024 - Design and implement the curriculum to foster children's learning and development
CHCECE025 - Embed sustainable practices in service operations
CHCECE026 - Work in partnership with families to provide appropriate education and care for children
CHCLEG001 - Work legally and ethically
CHCPRT001 - Identify and respond to children and young people at risk
HLTAID004 - Provide an emergency first aid response in an education and care setting
HLTWHS003 - Maintain work health and safety
CHCDIV002 - Promote Aboriginal and-or Torres Strait Islander cultural safety
CHCECE001 - Develop cultural competence
CHCECE002 - Ensure the health and safety of children
CHCECE003 - Provide care for children
CHCECE004 - Promote and provide healthy food and drinks
CHCECE005 - Provide care for babies and toddlers
CHCECE007 - Develop positive and respectful relationships with children
CHCINM002 - Meet community information needs
CHCMGT003 - Lead the work team
CHCPRP003 - Reflect on and improve own professional practice
BSBINN502 - Build and sustain an innovative work
CHCDIV001 - Work with diverse people
Why
Kirana Colleges

?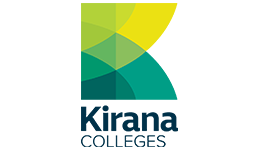 Get the skills and can-do attitude that employees are looking for when you get qualified with Kirana Education! They have a commitment to delivering work-ready courses and training to ensure students thrive and succeed.
Since its beginning in 2009, Kirana Education has grown to offer over 50 qualifications ranging from Certificate II to Advanced Diplomas. Their in-demand courses offer a platform to launch a career in childhood education and care, community services, business administration and more.
Have the flexibility to study online, on campus or enjoy a blended learning experience – the choice is yours and the opportunities are endless!
Kirana Education is all about providing their students with a positive and supportive learning experience, which is why they've developed the Student Assistance Program (SAP). SAP is a confidential and free counselling service which includes a dedicated 24/7 hotline and free counselling sessions (available in person or via Skype) to help keep your mental health and wellbeing on track.
Got a question or concern about your studies? Get help when you speak to an academic VET teacher on Kirana's Student Support Hotline or send an email to Student Support.
Campus locations
This course can be delivered on campus to provide you with practical training in a face-to-face learning environment. It is available to study at the following locations:
New South Wales
Olympic Park
Liverpool
Australia Capital Territory
Canberra
Western Australia
Morley
Rockingham Shopping Centre
Queensland
Brown Plains
Chermside
You can also choose to study this course entirely online, or online with some on-campus components (blended learning).