In a nutshell
Gain sought-after expertise in financial matters with this Diploma of Accounting (FNS50217) from Monarch Institute.
Learn from skilled professionals including senior CPA and chartered accountants, as well as registered BAS agents and bookkeepers who combined, have decades of experience. During this course, you'll cover financial reporting, management accounting, budgeting, financial performance, internal controls, and taxation. There's also an optional Tax Agent Certification module acts as a key step towards becoming a registered Tax Agent in Australia and is approved by the Tax Practitioners Board (TPB).
Graduate with the confidence and the professional skills required to tackle your next career goal. 
(Visited 134 times, 1 visits today)
Meet the accounting trainers at Monarch Institute
What you'll need
To be eligible for this course, you'll need:
Certificate IV in Accounting or a bookkeeping; OR 
FNSSS00014 Accounting Principles Skill Set which includes the following units:
FNSACC311 - Process financial transactions and extract interim reports
FNSACC312 - Administer subsidiary accounts and ledgers
FNSACC416 - Set up and operate a computerised accounting system
FNSTPB402 - Establish and maintain payroll systems
FNSTPB401 - Complete business activity and instalment activity statements
FNSACC408 - Work effectively in the accounting and bookkeeping industry
Recognition of prior learning (RPL) may be available for skills and knowledge obtained through previous study or other relevant experience.
Subject summary
In this accounting course, the subject you may study include:
BSBFIA401 - Prepare financial reports 
FNSACC514 - Prepare financial reports for corporate entities 
FNSACC412 - Prepare operational budgets 
FNSACC513 - Manage budgets and forecasts 
FNSACC517 - Provide management accounting information 
FNSINC601 - Apply economic principles to work in the financial services industry 
FNSACC511 - Provide financial and business performance information 
FNSACC516 - Implement and maintain internal control procedures
FNSINC401 - Apply principles of professional practice to work in the financial services industry 
FNSACC512 - Prepare tax documentation for individuals 
FNSACC601 - Prepare and administer tax documentation for legal entities 
Why
Monarch Institute

?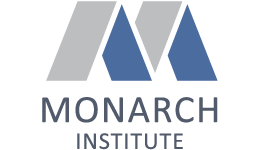 RTO 22530
Monarch Institute specialises in providing innovative, engaging courses with a focus on practical application. Courses are designed by industry experts who use real-life case studies to illustrate abstract concepts and give students the skills to succeed in the real world. The institute regularly consults with accounting, bookkeeping, financial planning and business industry practitioners to ensure that course materials reflect industry needs. Whether you choose to study in the classroom or online, Monarch Institute will support your learning journey by helping you gain valuable industry insights to enhance your employability.
Campus locations:
Melbourne – Level 10, 10-16 Queen Street, Melbourne VIC 3000
Sydney – 19-35 Martin Pl, Sydney NSW 2000
Brisbane – 71 Eagle Street, Brisbane QLD 4000
Perth – 140 St Georges Terrace, Perth WA 6000
Monarch Institute prides itself on encouraging and supporting students to meet their educational goals. Whether you choose to study in the classroom or online, you will be supported by a range of professionals who are committed to helping you succeed. All course materials have been designed with access and equity issues in mind, and assessment techniques reflect the needs of multiple learning styles.
Monarch provides an array of services for students, including personal, educational and vocational counselling services; disability assistance; language, literacy and numeracy assistance; and student welfare and guidance services. It also offers services for Aboriginal or Torres Strait Islander students and students with disabilities or special needs in order to support them in meeting their learning goals.