In a nutshell
Start an exciting new career in the rewarding aged care industry and make a real difference with your work by studying this Certificate IV in Ageing Support course from Skills Training Australia. 
If you're currently working in the aged or community care sector, this qualification will equip you with the stand-out skills, knowledge and abilities to take on a leadership role and help drive the future direction of the industry and the potential difference it can make in the lives of thousands of vulnerable Australians. 
In this course, you'll develop the leadership, management, and strategic thinking skills required to stand out in a competitive and growing job market. After completing this course, you'll be able to seek employment in a program support or coordination role in the aged care, individual support or community care sectors – using your unique and competitive skillset to make a real difference in the lives of hundreds of people.
(Visited 47 times, 1 visits today)
What you'll need
There are no educational or qualification prerequisites for this course.
Subject summary
In this aged care course, the subjects you will study may include:
Follow safe work practices for direct client care
Meet personal support needs
Support independence and well being
Work with diverse people
Facilitate the empowerment of older people
Implement falls prevention strategies
Recognise healthy body systems
Provide support to people living with dementia
Deliver care services using a palliative approach
Implement interventions with older people at risk
Assist clients with medication
Facilitate the interests and rights of clients
Manage legal and ethical compliance
Support relationships with carers and families
Facilitate individual service planning and delivery
Coordinate services for older people
Develop and maintain networks and collaborative partnerships
Provide first aid
Why
Skills Training Australia

?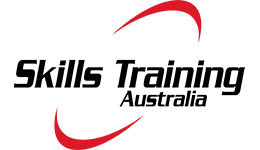 Study with Skills Training Australia and discover a career path that makes a real difference. Gain a nationally recognised qualification to pursue a career in nursing, aged care, health services and more – they're here to help you help others!
Learning with Skills Training Australia means you'll receive the highest quality training and assessment services, as well as access to some of Australia's largest community services and health providers.
Skills Training Australia is just as passionate as you when it comes to giving back to the community; so ask yourself, is there anyone else you'd want to lead you on your way?
Skills Training Australia is committed to helping you achieve your goals, offering a supportive environment and a first-class training experience.
You'll be taught the industry's best practices from trainers who are still active in the community and services sector, and are dedicated to supporting you throughout your learning journey, from course commencement to completion.
Campus locations
This course can be delivered on campus to provide you with practical training in a face-to-face learning environment. It is available to study at the following locations:
Victoria
Melbourne CBD
Melbourne Knox