In a nutshell
Start an exciting new career making a real difference in people's lives by studying this Diploma of Nursing (HLT54115) course from Skills Training Australia.
A pathway to a nursing qualification, this course covers a broad range of nursing skills and knowledge areas, and will equip you with the practical skills, theoretical understanding and key personal attributes required to thrive in the dynamic and challenging world of nursing. 
Developed in consultation with practising experts, this course offers industry-standard training in a broad range of nursing skills. You'll learn how to manage a range of acute and sensitive health conditions, how to treat wounds and infections, and how to manage patient relationships and your own wellbeing and schedule in the workplace. 
Your training will be grounded in a foundation of theoretical knowledge of industry-standard patient care and management, and will be tested with 400 hours of practical work experience. You'll complete this course with the skills, experience, abilities and passion to make a real difference in the lives of thousands of Australians by working as a nurse.
(Visited 265 times, 1 visits today)
What you'll need
To be eligible to study this course, applicants must meet the following requirements:
Provide evidence of successful completion of year 12 maths and English in the past two years; OR
Sit a numeracy and literacy entry assessment, which is conducted on-site as a Skills Training Australia campus.
Subject summary
In this nursing course, the subjects you will study may include:
HLTWHS002 - Follow safe work practices for direct client care
HLTAAP002 - Confirm physical health status
HLTINF001 - Comply with infection control policies and procedures
CHCDIV001 - Work with diverse people
CHCDIV002 - Promote Aboriginal and/or Torres Strait Islander culture safely
HLTENN001 - Practice nursing within the Australian health care system
HLTENN004 - Implement, monitor and evaluate nursing care plans
CHCPRP003 - Reflect on and improve own professional practice
HLTENN015 - Apply nursing practice in the primary health care setting
HLTAID003 - Provide first aid
CHCPOL003 - Research and apply evidence to practice
HLTENN002 - Apply communication skills in nursing practice
HLTENN008 - Apply legal and ethical parameters to nursing practice
HLTENN013 - Implement and monitor care of the older person
HLTENN006 - Apply principles of wound management in the clinical environment
HLTWHS006 - Manage personal stressors in the work environment
HLTENN012 - Implement and monitor care for a person with chronic health problems
HLTAAP003 - Analyse and respond to client health information
HLTENN033 - Research and report on nursing trends and practice
BSBLDR403 - Lead team effectiveness
HLTENN009 - Implement and monitor care for a person with mental health conditions
HLTENN005 - Contribute to nursing care of a person with complex needs
HLTENN011 - Implement and monitor care for a person with acute health problems
HLTENN007 - Administer and monitor medicines and intravenous therapy
HLTENN025 - Implement and monitor care for a person with diabetes
Why
Skills Training Australia

?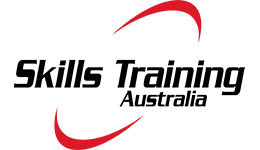 Study with Skills Training Australia and discover a career path that makes a real difference. Gain a nationally recognised qualification to pursue a career in nursing, aged care, health services and more – they're here to help you help others!
Learning with Skills Training Australia means you'll receive the highest quality training and assessment services, as well as access to some of Australia's largest community services and health providers.
Skills Training Australia is just as passionate as you when it comes to giving back to the community; so ask yourself, is there anyone else you'd want to lead you on your way?
Skills Training Australia is committed to helping you achieve your goals, offering a supportive environment and a first-class training experience.
You'll be taught the industry's best practices from trainers who are still active in the community and services sector, and are dedicated to supporting you throughout your learning journey, from course commencement to completion.
Campus locations
This course can be delivered on campus to provide you with practical training in a face-to-face learning environment. It is available to study at the following locations:
Victoria
Melbourne CBD
Melbourne Knox