About this course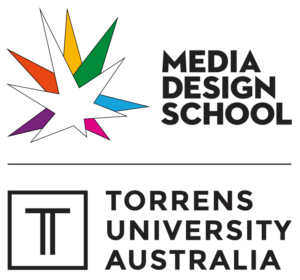 Whether you want to design mesmerising environments like those found in Mass Effect and The Legend of Zelda: Breath of the Wild, or create iconic game characters like Sonic The Hedgehog and Master Chief, your career as a games artist starts here!
This Bachelor of Creative Technologies (Game Art) course offered by the Media Design School at Torrens University Australia recreates studio environments and will help you develop both your illustrative style and technical skills.
By studying this course, you will get to:
Develop advanced skills in 2D and 3D animation and modelling
Learn how to conceptualise and design game elements such as environments and characters
Collaborate with programmers in a studio-like environment to create games across multiple platforms including online, mobile and console
Workload and assessment
In order to succeed in your studies, each subject in this course requires 10 hours of study per week, comprising 3 hours of facilitated study and 7 hours self-directed study.
Assessments for this course may take a variety of forms, including:
Practical assignments
Research projects
Presentations
(Visited 45 times, 1 visits today)
Media Design School students showcase their work at the IGN Select Awards
Prerequisites
To be eligible to study this course, applicants must meet the following entry requirements:
Completed Year 12 with a minimum ATAR of 60, or equivalent; OR
Have broadly relevant work experience or have completed or partially competed formal or informal study; OR
Submit a design portfolio of 6-10 pieces of original work
All students are also required to demonstrate sufficient competency in English.
Subjects
In this game art course, the subjects you may study include:
Game studio 1
Design context
Game production foundation
3D asset creation
Game design principles
2D asset creation
PBL studio
Discover, define, develop, deliver
Animation
Game studies
Advanced 2D asset creation
Work integrated learning
Social enterprise
Production capstone
Pre-production capstone
Why
Torrens University Australia

?
Torrens University Australia brings together some of the country's most regarded tertiary institutes across industries like business, design, public health, hospitality, and sports management.
Studying with Torrens means learning from the industry's best and brightest minds through cutting-edge syllabuses and small classroom environments. By becoming a Torrens student, you will not only have access to Torrens' state-of-the-art campuses across the nation, you'll also get to leverage Torrens status as a Laureate International University, and be able to access a global network of over 70 universities across 25 countries.
Torrens schools include; APM College of Business and Communication, Australasian College of Natural Therapies, Chifley Business School, Media Design School, Real Madrid Graduate School, Southern School of Natural Therapies and William Blue College of Hospitality.
Torrens Dynamic Online Learning mode means you can study at your own pace. By providing you with on-demand access to course materials and content, you can study when you want, where you want.
Torrens also runs Touch-Point weekend sessions that allow you to hear from industry professionals, chat to lecturers and expand your network.
Torrens students will also have access to Torrens Success Coaches, who will help you align your strengths and learning with your goals. From the moment you are admitted to your course, a Success Coach will be available to help you successfully navigate the educational landscape and build your personal and professional skills.
Campus locations
This course can be delivered on campus to provide you with practical training in a face-to-face learning environment. It is available to study at the following locations:
New South Wales
Sydney (Ultimo)
Queensland
Brisbane (Fortitude Valley)