About this course
Gain specialised skills that will give you a professional advantage as a dental assistant with this online HLT35015 Certificate III in Dental Assisting & HLT45015 Certificate IV in Dental Assisting (Radiography Specialisation) course.
You will learn how to provide a high level of patient service, maintain impeccable standards of infection control and assist a dental professional with oral health care procedures. You will also learn how to produce dental radiographic images, a key specialisation in the dental services sector.
The coursework is delivered online by Foundation Education, allowing you to move through the units at your own pace and schedule your study time around your personal and work commitments.
Work placement
As part of this course, you will need to organise and complete a minimum of 250 hours of work placement in a dental clinic.
(Visited 180 times, 1 visits today)
Subjects
In this dental assisting course, the subjects you may study include:
HLTDEN003 - Assist with administration in dental practice
HLTINF001 - Comply with infection prevention and control policies and procedures
HLTDEN001 - Prepare for and assist with oral health care procedures
HLTINF002 - Process reusable medical devices and equipment
BSBWOR301 - Organise personal work priorities and development
CHCDIV001 - Work with diverse people
CHCCOM005 - Communicate and work in health or community services
HLTDEN002 - Assist with dental radiography
HLTWHS001 - Participate in workplace health and safety
BSBCUS401 - Coordinate implementation of customer service strategies
HLTDEN007 - Apply the principles of radiation biology and protection in dental practice
HLTDEN008 - Prepare to expose a prescribed dental radiographic image
HLTDEN009 - Produce a prescribed dental radiographic image
HLTINF003 - Implement and monitor infection prevention and control policies and procedures
HLTWHS003 - Maintain work health and safety
*HLTAID003 - Provide first aid
* Please note that unit HLTAID003 – Provide first aid must be completed through an external provider.
Why
Foundation Education

?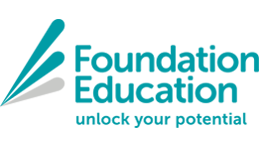 RTO 22557
Foundation Education is one of the few Registered Training Organisations (RTO) in Australia who endeavours to deliver flexible online training solutions designed to fit their students' lifestyles. Since 1999, they've been focused on providing excellence in Vocational Education and Training and building partnership networks that drive quality graduates across each industry, alongside their partner RTO, the Australian Institute of Personal Trainers (AIPT).
With more than 60 nationally recognised certificate and diploma level courses on offer, the Foundation Education difference means:
Flexible Online Study
Foundation Education's courses are delivered online so you can study whenever and wherever suits you. This also gives you the flexibility to choose your course length – whether that be the full term of your course or as little as six months.
Dedicated Student Support
Foundation Education's industry experienced Technical Advisors, Assessors and Support Officers will support you from enrolment through to graduation.
Industry Relevant Courses
Course material is developed in consultation with industry experts to equip you with the job-ready skills and up-to-date knowledge required to support your career goals.
Studying with Foundation Education, you will be supported by an experienced trainer currently working in the industry. You will receive ongoing and personalised support with your assignments and career goals, and have access to coaching and advice from industry professionals. With state-of-the-art technology, you will have access to your course materials 24/7, meaning you can truly study when and where you want.