In a nutshell
Providing you with an understanding of the daily operations of a fitness centre, this Diploma of Sport and Recreation Management (SIS50115) readies you for a career in management that draws on your skills to plan and manage events, fitness programs and develop a fitness business. 
Delivered online by Australian Institute of Personal Trainers (AIPT), your course work covers a wide range of competencies, equipping you with the knowledge needed to manage staff, develop marketing plans, secure sponsorship, coordinate client services, organise events, develop business relationships, manage stock, develop business plans, manage finances and oversee the daily operation of a fitness centre.
(Visited 307 times, 1 visits today)
What you'll need
While there are no prerequisites for entry to this course, it is recommended that you have lower level qualifications in the industry such as a Certificate IV in Sport and Recreation Management (SIS50115) and access to sport and recreation activities.
Subject summary
In this sports management course, the units of competency you may study include:
BSBADM502B - Manage meetings
BSBMGT515A - Manage operational plan
SITXMGT501 - Establish and conduct business relationships
SITXHRM402 - Lead and manage people
SITXGLC501 - Research and comply with regulatory requirements
SITXEVT505 - Manage on-site event operations
SISXRSK502A - Manage organisational risks
SISXFAC409 - Plan and provide sport, fitness and recreation services
SISXIND406A - Manage projects
SISXCCS402A - Coordinate client service activities
SISXFAC404A - Coordinate facility and equipment acquisition and maintenance
SISXWHS503 - Establish and maintain work health and safety systems
SISXFAC506A - Manage stock supply and purchase
SISXIND404A - Promote compliance with laws and legal principles
SITXMPR501 - Obtain and manage sponsorship
SITXEVT602 - Develop event concepts
SITXEVT603 - Determine event feasibility
SITXFIN601 - Manage physical assets
BSBHRM405 - Support the recruitment, selection and induction of staff
BSBFIM601A - Manage finances
BSBMGT617A - Develop and implement a business plan
BSBMKG608A - Develop organisational marketing objectives
BSBMKG609A - Develop a marketing plan
BSBRKG502B - Manage and monitor business or records systems
Why
Australian Institute of Personal Trainers

?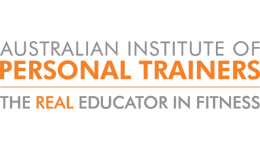 RTO 32363
The Australian Institute of Personal Trainers (AIPT) are experts in wellness, nutrition and fitness, and equip their students with the best in online and face-to-face education. Established in 1999 alongside their partner Registered Training Organisation, Foundation Education, they have grown from a handful of campuses in Queensland to over 150 campuses and an extensive network of Mentors Australia-wide. When you study with AIPT you have access to:
Dedicated student support
Access to a dedicated team of Support Officers to make the transition into study as straightforward as possible.
Largest network of locations
We have the industry's largest network of gyms across Australia, ensuring we're in your area.
Flexible delivery options
AIPT caters to all learning styles and offers flexible study options to suit everyone's schedules and budget, with a focus on practical learning and hands-on experience.
Throughout your studies as an AIPT student, you will have complete access to their expert education team – a group of mentors who are dedicating to answering any of your questions or study queries. Mentors are seasoned fitness professionals with years of experience in the industry and can be contacted via email, online or over the phone. As an AIPT student, you will also have access to the My eCampus learning portal where you will be able to download course content and submit assessments.