About this course
Whether you currently work in a hospital, in community health or a private practice – or you'd like to – holding a qualification in health administration will ensure you're ready to take on the challenge of supervising others, this HLT43212 Certificate IV in Health Administration course is for you. Health care is a large and growing industry, and the skills you will learn in this course are easily translated across a number of roles.
From understanding and applying medical terminology to making decisions based on legal and ethical frameworks, the subjects covered here will ready you to take on the business end of health service provision.
You will learn to manage patient records, analyse and present information to practitioners, support staff recruitment and apply customer service strategies – all vital parts of the medical machine. And with this online qualification you can study at your own pace, from your own place – so you can apply the lessons as you go.
(Visited 813 times, 1 visits today)
Subjects
In this health course, the subjects you will study include:
Core units:
BSBWOR401A - Establish effective workplace relationships
BSBMED301B - Interpret and apply medical terminology appropriately
HLTHIR402D - Contribute to organisational effectiveness in the health industry
HLTHIR506C - Implement and monitor compliance with legal and ethical requirements
HLTWHS300A - Contribute to WHS processes
Elective units:
BSBLDR403 - Lead team effectiveness
BSBCUS401B - Coordinate implementation of customer service strategies
BSBCUS402B - Address customer needs
BSBCUS403B - Implement customer service standards
BSBHRM404 - Review human resource functions
BSBHRM405 - Support the recruitment, selection and induction of staff
BSBRES401A - Analyse and present research information
BSBMED401B - Manage patient record keeping system
HLTCOM404C - Communicate effectively with clients
HLTHIR403C - Work effectively with culturally diverse clients and co-workers
Why
Foundation Education

?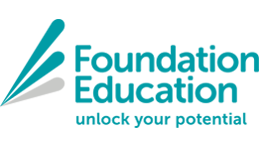 RTO 22557
Foundation Education is one of the few Registered Training Organisations (RTO) in Australia who endeavours to deliver flexible online training solutions designed to fit their students' lifestyles. Since 1999, they've been focused on providing excellence in Vocational Education and Training and building partnership networks that drive quality graduates across each industry, alongside their partner RTO, the Australian Institute of Personal Trainers (AIPT).
With more than 60 nationally recognised certificate and diploma level courses on offer, the Foundation Education difference means:
Flexible Online Study
Foundation Education's courses are delivered online so you can study whenever and wherever suits you. This also gives you the flexibility to choose your course length – whether that be the full term of your course or as little as six months.
Dedicated Student Support
Foundation Education's industry experienced Technical Advisors, Assessors and Support Officers will support you from enrolment through to graduation.
Industry Relevant Courses
Course material is developed in consultation with industry experts to equip you with the job-ready skills and up-to-date knowledge required to support your career goals.
Studying with Foundation Education, you will be supported by an experienced trainer currently working in the industry. You will receive ongoing and personalised support with your assignments and career goals, and have access to coaching and advice from industry professionals. With state-of-the-art technology, you will have access to your course materials 24/7, meaning you can truly study when and where you want.